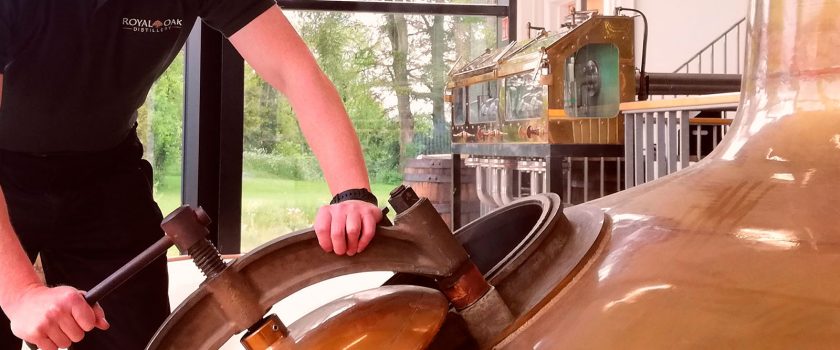 Supply Chain Lead – ROYAL OAK DISTILLERY, CO. CARLOW, IRELAND
Job Title: Supply Chain Lead
Reports To: Financial Controller
Location: Royal Oak, Bagenalstown, Co. Carlow
Royal Oak Distillery at Royal Oak will produce circa 2million litres of alcohol (mla) annually, that is the equivalent of 600,000 9-Litre cases of Irish Whiskey.
The facility is the first purpose-built distillery in the area in over 200 years and produces the three varieties of Irish Whiskey, namely, Pot still, single Malt and Grain.
The site operates on a 24/7 basis and includes the operations of filling casks/barrels and warehousing.
This is a key role within the site team. The Goal is to ensure all stock is accurately recorded, all movements are correctly documented (with supporting warrants) and planned efficiently using a customer-oriented approach.
Leadership & Responsibilities
This person will be responsible for the Inventory Management and Logistics for the business.
They must be able to demonstrate very strong interpersonal skills, an ability to think creatively and work as part of a team.
They must be able to plan-ahead and deal with unexpected changes.
They must be proficient with data analysis, including working with electronic data and be able to show flexibility as and when required.
They must have a Knowledge of laws, regulations, revenue requirements and ISO requirements associated with transport of goods.
They must be able to work with little supervision and track multiple transactions.
Support the site by ensuring consistent, planned flow of materials to and from the Business, while ensuring all compliance standards are achieved.
Ensure all inventory and logistics movements are recorded accurately and in a timely fashion.
Implement and drive Supply Chain strategies and efficiencies.
Inventory Support the Finance and Supply Chain Manager in the development and implementation of robust internal inventory controls and process. Support the Finance and Supply Chain Manager in the development and implementation of Order Planning process around standard lead times and minimum stock level requirement (Raw Material, Process Aids, Barrel and Pallet). Liaise with operations team on a weekly basis (production planning meetings) to ensure plans are on track and be able to flex to achieve best possible solution. Ensure sufficient stock levels at all times in conjunction with Procurement Dept. Monitor and record all deliveries. Carry out weekly and monthly stock takes dependent on inventory type. Weekly, monthly and annual stock reporting. Entry of Flow Log Barrel Fill Data to JDE. Recording of all inventory transformation during Re-Casking Activities. Recording of all inventory transformation during Blending Activities. Recording of inventory loss during transformational activities. Monthly Reconciliation of Barrel Inventory between JDE System and Warehouse Operator Systems. Management of 3rd Party (CS01) Warehouse Data in JDE. Reconciliation of all offsite liquid stock storage. Logistics Schedule all Raw Material, Process Aids, Waste Stream, Barrel and Pallet deliveries in a timely manner.Generate all warrants associated with all whiskey movements.File and catalogue all returned warrants.Liaise with external warehouses for cask delivery on a daily basis.Recording System Transfer of Filled Casks to relevant warehouse. Recording System Transfer of Aged Casks between relevant warehouse locations. Recording of inventory transfer to bottling locations. Liaise with Parent Company logistics department in sending of export and logistics documentation. Customs and Excise Reporting associated with Inventory Movements. Forecasting and Support Cask Availability and Profile Reporting Liquid Inventory Reporting and Forecasting (in conjunction with Lead Whiskey Blender)
Key Performance Indicators
Effective management and accounting of all stocks held by the Business

 

On Time/In Full Delivery of all moveable goods.

 

Compliance with all Customs and Excise Regulations

 

Accurate and Timely Entry of all system entries.

 
Experience Preference/ Qualifications/Skills Preference
At least 5 years relevant experience in a Supply Chain/Logistics role – DGSA qualification desirable.

 

Experience with an Oracle based ERP system desirable.

 

Strong relationship building skills and management skills with a high degree of responsiveness, and integrity. Strong people skills / team skills are essential for this role.

 

Professionally persistent in achieving deadlines.

 

Excellent communication and presentation skills (verbal and written), with attention to detail.

 

Strong understanding and ability to ensure standards and processes of Quality, Health, Safety and Environment are upheld in line with overall Distillery Culture.

 
Experience Preference/ Qualifications/Skills Preference
Organised, diligent, principled and meticulous

 

Safety conscious

 

Independence with multi-tasking

 

Able to integrate within the team

 

Strong analytical skills

 

Open and honest

 

Dependable

 

Flexible

 

Eagerness to learn and develop.

 
Send your resume! We'll contact you as soon as possible.